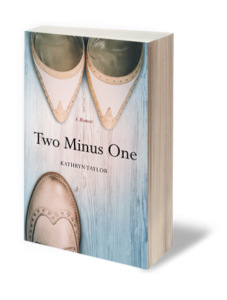 Reading this book in your local book club? Enjoy these reader discussion questions to get the conversation going! If you'd like to arrange to have Kathryn visit or Skype with your club, please email kathryntaylor.author@gmail.com!
Have you, or someone you've known, been in a difficult relationship? If so, how did your/their handling differ from or support the author's?
What do you know or think about the term wife abandonment syndrome? Runaway husbands?
Did you enjoy Two Minus One? Why or why not?
At which point of the book were you most engaged?
Why do you think Kathryn's husband waited until they were in the car and on the road to give her bad news?
Would you recommend Two Minus One to other readers? To your close friend?
Why or why not?
What specific passages struck you as significant, profound, illuminating, or sad? What was memorable?
What insights have you gained from reading Two Minus One?