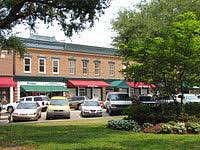 When I first arrived in Summerville more than ten years ago, I was eager to explore the quaint little town in which I had settled. I had just retired from teaching. I was an avid reader. So, of course, the library and the nearest book store were two of my top priorities.
I found the library easily, but a local book store was much more difficult. I did stumble upon a cozy little house on a side street off the "main square" as locals called it. Both the library and the book store were much smaller than what I had experienced in the past. However, this was truly a case in which "size didn't matter." I was at once content in my new surroundings. The library had online requests for any book that I could want, and the book store, although housing a small inventory, had a sampling of books I could touch, peruse, and purchase for my own personal pleasure. However, in the blink of an eye, the shop was gone! Before I could make my third trip to my newly discovered paradise, the store disappeared. Except for a brief period where the "square" housed a children's book store, it has been my biggest disappointment that I lived in a place that had no book store to call its own. Indeed, the closest physical bookstore from my home, was nearly thirty minutes away. I longed for a Summerville Book Store!
Instead, I relied on borrowing multitudes of books from the library. I settled for the occasional visit to the book store when errands found me on the other side of town. I frequented the easily accessible book stores whenever I vacationed or visited family or friends out of state. Still, a big part of what I needed in life was missing. I desired a local book store that offered a friendly staff. I wanted a stock of well written books. I dreamed of a comfortable environment providing me the leisure to browse to my heart's content. I longed for a place where I could savor the sensory pleasures that rooms full of books and book lovers provide. I was frustrated living in a Summerville without a book store, and unable to understand how others could.
Until, one day, talk began. Shari Stauch was about to begin yet another chapter in her life. Shari is a talented writer, entrepreneur, marketer, and business woman. She is the owner of Where Writers Win and was my mentor, my marketing guru, and becoming my friend. She had a storefront property on the "main square" and she was ready to put her next dream into play. She was going to open a Summerville Book Store! The downtown Hutchinson Square was under renovation, and Main Street Reads would open its doors in conjunction with the ribbon cutting for the new downtown Summerville! It appeared my dream of a Summerville Book Store would indeed come true! It was mere months away!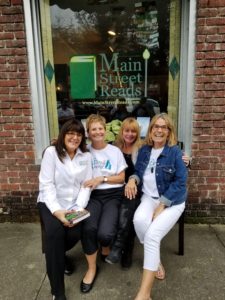 Shari and I met weekly to strategize the marketing of Two Minus One: A Memoir. It was because of those meetings that I learned details of the upcoming opening and was able to share in the excitement of her plans. I saw the storefront in its original condition and watched the unfolding of the renovations and the dreams she had for the new space. I shared in her excitement and was honored to be one of the first local authors invited to sign books in her store. I was signing Two Minus One alongside Pattie Welek Hall and J.C. Sassen at her Grand Opening Event!
Friday, March 1, 2019 arrived and Main Street Reads was ready! Shari's family and friends were scrambling in support as final touches were put in place. Ice was brought in to chill champagne and wine. Coffee, sweet tea and iced water were in abundance! Meat and cheese platters were in position and fresh flowers and fruits were everywhere. Most importantly, there were books! Thousands of new and wonderful books waiting to be admired, purchased, signed, and taken home!
I spent the better part of two days of the Grand Opening weekend in that lovely shop. I watched as droves of residents lingered comfortably in the beautiful new surroundings. I observed as families shared quality time with one another suggesting and selecting the special books they would take with them out the door. I noticed groups of strangers begin to chat with one another. I saw people congregate in comfortable seating to spend special time with new friends. I listened as folks discussed their favorite books or discovered a new author. I witnessed what had been missing when there was no Summerville Book Store. I saw the community come together in a common love of the written story. I heard the appreciative awe in their voices as they complimented the owner – and one another – on the beauty of Main Street Reads.
I realized that it had not just been me who wanted a Summerville Book Store. Each person in Main Street Reads had been hungry for the same thing that I had been longing for. Each eager for a place they could relax for a moment and browse with a good friend and a good book. Each searching for a supportive environment where book lovers – both readers and authors – could find the support and camaraderie often missing in our society today. Each sincerely grateful that Shari Stauch had the insight, the means, and the willingness to bring her dream to her community! In so doing, she has provided a place where we can all become a stronger community – together!