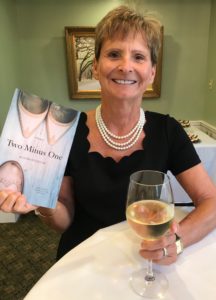 I am amazed that it has been one full year since Two Minus One: A Memoir was released! It seems it was only yesterday that I was huddled on the sofa, sobbing over an unexpected abandonment, and grieving a life I would never recover. Yet it is  one year later – the anniversary of the publication! Two Minus One has certainly provided a year filled with gratitude and change.
I wrote these words in my memoir: "I am grateful that he chose to leave and in so doing, opened so many doors. Because he did, I have become fearless and eager to move on." At the time, I felt healed and invincible. I couldn't have imagined where life was about to take me. But before the book was available, I was doing interviews for podcasts and word was getting out.
My life was already changing just two days after the book was released. I had my first book signing "event" and the journey had begun! I worked hard to "enjoy the ride" and wanted to "appreciate the moment" as family, friends, and professionals like Shari Stauch and Polly Buxton advised. I continued to journal and did my best to capture the impact and the emotion of each opportunity. However, if Two Minus One could be likened to a racehorse, I could do nothing but hold on coming out of the gate.
My story seemed to resonate with women. My therapist had been right when she assured me that I was not the only woman who had been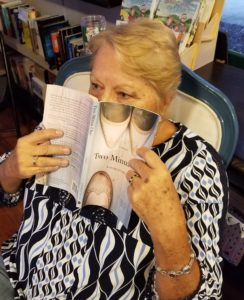 abandoned unexpectedly later in life. It seemed to be happening everywhere. Women who hadn't written about it themselves, wanted to read what I had written. They wanted to hear my thoughts, receive support, and be assured that they too, would rise above the mess that their lives had become. Women who were not experiencing such loss personally had friends or family who were. They wanted me to share my story. Two Minus One was even selected as one of the alternate September 2019 selections of Kathy L. Murphy's Pulpwood Book Club Queen's book list!
I found myself signing and speaking at events in seven different states in the six months of the Book Tour that followed. I was suddenly exposed to hundreds of readers and authors and welcomed into a literary world I had never imagined! I started feeling like Dorothy along the yellow brick road – I was certainly no longer in Kansas! Just like Dorothy, I began meeting new and wonderful people along my journey to a new destination. I was not in the Land of Oz. I found myself immersed in the Land of Writers – and again like Dorothy, I had been changed. The exposure, the excitement, the recognition and the support had all been heady and unexpected. I was savoring every experience! I knew it would soon be time to return to that identifiable and secure place called home.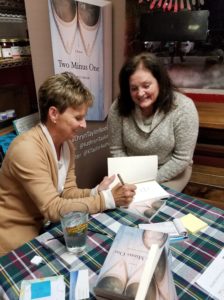 Again, like Dorothy, there were adjustments to be made after the return home. I collapsed with gratitude and amazement. I was certain that I could return to "retirement" mode. I was ready to hibernate. I hoped to at least catch up on some much-needed rest! Yet amazingly, that was not to be. There were still book signings and interviews. I made appearances and participated in panel discussions at the Pat Conroy Literary Center. I even had requests to re-appear at venues. I was asked to do follow up interviews about the book and my journey with its writing and publication.
I worked hard to regain balance. Once again I re-read my book noting the following words: "He may have been done, but I was just beginning." I realized I had discovered myself  and noted the superhuman strength required to heal -which  I believe we all possess. So, as we approach this time of Thanksgiving, I must express my gratitude to all I have met and who supported me along this journey. There are too many to mention, but each will be forever held in my heart.