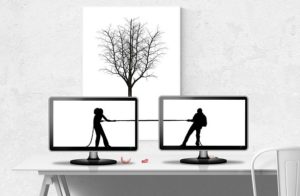 Divorce is devastating—having been divorced before, I knew that. But I had angels watching over me, showing me the way, providing miracles in even my darkest times. My angels appeared in many forms. My best friend, Robbie was the first to materialize. Insisting that I must move forward with life, she arrived to force me off the sofa and encourage me to begin to move forward with my life. I mentioned to a neighborhood friend that I needed an attorney, and another angel miraculously came to the rescue. Facing the reality of losing my home, my mediator seemed to have been dropped from the sky in answer to my prayers. I required a new mortgage and a new budget, and more angels appeared to remove the obstacles and guide me along my path.
My real angel, however, appeared without mention or warning. My savior and guardian angel turned out to be a small rescue dog no bigger than a ball of fluff. I had never wanted nor expected a dog in my life, but Lucy instantly turned it completely around. Lucy had the energy level and intelligence of a precocious toddler from the start, so we experienced our share of challenging moments. She did love to chew, so she was supplied with an array of chew toys which continue to occupy her attention and calm her nerves. Yet overall, she was an easy pup. She traveled well, slept through the nights immediately, and accidents were rare.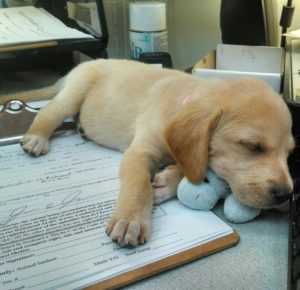 With no thought for anything but herself, Lucy instantly danced on her little tippy toes through my house and opened my heart. Her innocent and unwavering joy and enthusiasm for life increasingly opened my world. Even on the hottest of days, she prances happily with the wind in her face and a stick in her mouth. Neighbors comment as we pass that, "You can almost see a huge smile spread across her face." She may be unable to smile, but she bestows them on all who see her each time we are out walking. And, as she waits patiently for a small treat upon our return, she immediately elicits one on mine.
Four years have passed since Lucy entered my life. The divorce a distant memory. We have both grown calmer and accustomed to one another. I have discovered there are many unexpected ways in which we can empower ourselves, and that raising a puppy is one of them. I found that by rising to my best, I allowed Lucy to be her best. I discovered that time spent training Lucy afforded me time for retraining myself to enjoy all that life offers. I marveled at the fact that watching her sleeping peacefully on her bed in front of the fire provided me with as much peace and tranquility as a day spent on the beach.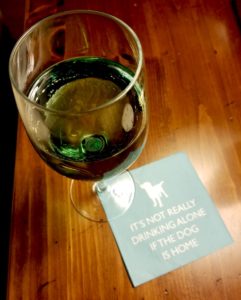 At a time when it seemed like my life was over, Lucy gently led me to discover that it had in fact just begun. She selflessly and unknowingly afforded me the strength and healing that I so desperately required after my divorce. I have no doubt that while I might have eventually made it to the place where I was meant to be, I would not have made it as quickly or as well without Lucy by my side. She provided a sense of peace and joy in my life that had been lost. As we share quiet moments of contentment over coffee and a bone on the porch, watching birds and lizards, or with wine and a bone in front of the fire, my heart never fails to explode with gratitude and love.
Have you ever experienced a similar unexpected rescue? Were you glad you made the choice you did? Be sure and share your thoughts.